Big Brothers Big Sisters of Grand Erie Swing, Sip & Sample Event
Published on Thursday,19 May, 2016
Rassaun Services is a proud sponsor of the Swing, Sip & Sample event taking place at The Links At Dover Coast and David's Restaurant. Click on this link to download the brochure to see how to register! Hope to see everyone there!
http://www.bigdifference.ca/site-bbbs/media/GrandErie/2016%20GFKS%20HN%20Brochure.pdf

Rassaun Services Partners with Norfolk Student Start Up Program
Published on Wednesday,18 May, 2016
Norfolk County and its partners are fuelling the creativity and entrepreneurship of Norfolk students through the Student Start Up Program (SSUP Norfolk). Entrepreneurs grow in Norfolk County, and we want to cultivate those abilities and instincts in students in Grades 6 to 12.
SSUP Norfolk provides students the opportunity to try self-employment during their summer holidays, July and August, as a viable way of employment and does not interfere with their studies throughout the school year.
The program is very student friendly. Students are required to fill out a business plan template, to increase their chances of being a successful applicant by further elaborating on their venture. The template covers the basic components of a business plan, provides a basic structure, and highlights the importance of putting ideas into action.
Applications are reviewed and successful applicants are notified prior to the end of June and awarded $200 to get them started.
Throughout the summer, students are encouraged to use the support of the sponsors to enhance their business and maximize their experience. Mid way through the summer a meet-and-greet event is held where sponsors and students can interact and be mutually encouraged. This is also an opportunity to highlight the value of learning and reminding the students of the report that can earn them a year-end bonus. After the students have run their business through the summer break they submit a report providing a business analysis of their efforts. A student that critique his or her business are awarded a $100 bonus for a job well done.
The program provides real experience in actual business and exposes young people to an alternative of being an employee or the ability to offset part-time work. They have the opportunity to following their creativity and dreams. With the support of the communities and sponsors from a wide range of backgrounds, contacts and knowledge, students receive a great experience as do all involved in growing as entrepreneurs and recognizing their true value.
Norfolk General Hospital Donation
Published on Friday, 5 February, 2016
A generous donation was made to Norfolk General Hospital for their "Building a Better Hospital" Campaign which will fund renovations to the hospital's surgical daycare and obstetrics units.
United Way Haldimand Norfolk
Published on Wednesday,27 January, 2016
Special thanks to Rassaun Steel for its $2500.00 donation to the United Way. United Way's Neil Dring accepts cheque from Kevin Saunders and Nadia Saunders.
Rassaun Steel partners with Fanshawe College & CCES
Published on Wednesday,14 October, 2015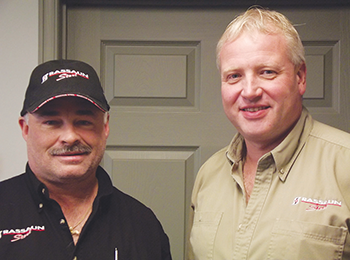 Rassaun Steel is a familiar name within Norfolk County. We have been in business for 44 years and currently employee 80 plus employees within the trades. We are an on-site mechanical / electrical company providing a wide range of services backed up by a fully equipped fabrication facility. Rassaun Steel has earned a reputation as a top ranking service provider in all facets of our business. We are large enough to handle the job and small enough to care. This asset is backed by our highly trained and dedicated team of employees who understand our customer's requirements. Rassaun Steel understands the importance of training and developing individuals for future growth of our company. This is where Fanshawe College, Community Career and Employment Services are playing an integral part. Over the past year we have worked closely with the staff at CCES hiring five apprentices and two field service team members. The partnership with this service has proven to be a positive experience for Rassaun. Staff at CCES takes the time to understand the demands and needs of our industry. In partnership with CCES we have been able to develop new positions. Some of the services that Rassaun utilizes through CCES includes pre-screening of potential candidates; wage subsidy to offset training costs; NORCAT e-learning which provides safety modules required for the job; WSIB coverage for the duration of the training; monitoring and follow up to ensure success of new employees.
CCES works with job seekers on creating an individualized plan to reach their employment objective. New employees may be eligible to receive a support allowance for on the job tools or any other requirements for the job.
Participation in this program is very user-friendly; a simple phone call was all it took to initiate the partnership. Rassaun supports Community Career and Employment Services and their efforts to employ people within the community. We will continue to utilize services and programs as needed and encourage other business owners to explore this service when they need to hire.
Norfolk County Library Donation
Published on Friday, 2 May, 2014
Rassaun Steel donates to Norfolk County Public library - Port Dover location.